Don't keep all the benefits of using Nobel's phone cards for yourself! Share the information with your friends, and get even more benefits. Refer people to Enjoy Prepaid and each time one of them signs up as a new customer you can earn valuable Nobel Points, which you can use to buy more credit.
What is "Refer-a-Friend and GET $10" program ?
It's a program specially created by Nobel to reward you for telling your friends about the great savings they can make on their domestic and international calls - just like you - and recommending them to use our calling cards.
The more you refer, the more Points you get: There's no limit to the number of friends you can refer to Enjoyprepaid, so get all your friends joining and get points for each and every one of them: 100 points equivalent of $10 for each friend referred! More points mean more free calling credit added to your balance.
Your friends win as well! To turn this into a win-win, when your friends sign up with Enjoy Prepaid they are also credited $5 in Nobel Points. They too can use their points to get discounts or free credit in their accounts.
Refer-a-Friend and GET 10$ in 3 easy steps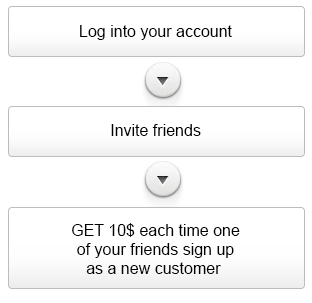 You don't have an account yet? Create one now to start saving on calls and earning Nobel Points!